TOURIST STOVE ATLAS MOUNTAINS
Certyfikat CE

Type of gas: BUTANE

Moc: 2x2,2 kW (4,4 kW)

Gas consumption: 160 g/h (320 g/h)

Working range: 20˚C +/- 5˚C

Packaging: black suitcase

Ignition: piezo-electric

Gas source: gas cartridge

Safety device that shuts off the gas supply in the event of the flame going out.

This appliance may be used in well-ventilated areas (2 m3/h/kW min.) away from flammable materials.
Case: 1 pc.

Dimensions: 69x32x13,5 cm

Weight: 5,5 kg

Master carton: 3 pcs.

Master carton dimensions: 70x42,5x33,4 cm

Master carton weight:17,7 kg

EAN code 5905143042045
MOUNT EVEREST TOURIST STOVE
CE certificate

Type of gas: PROPANE-BUTANE

Power: 2.2 kW

Gas consumption: 160 g/h

Working range: 20˚C +/- 5˚C

Packaging: black suitcase

Ignition: piezo-electric

Gas source: gas cartridge
Case: 1 pc.

Dimensions: 37,5x13x29 cm

Weight: 2.67 kg

Master carton: 4 pcs.

Master carton dimensions: 53,3x39,8x33 cm

Master carton weight: 11.4 kg

EAN code 5903240385591
CE certificate

Type of gas: PROPANE-BUTANE

Power: 2.2 kW

Gas consumption: 160 g/h

Working range: 20˚C +/- 5˚C

Packaging: black suitcase

Ignition: piezo-electric

Gas source: gas cartridge
Case: 1 pc.

Dimensions: 37x10x31.5 cm

Weight: 2.08 kg

Master carton: 6 pcs.

Master carton dimensions: 60x37.5x33.5 cm

Master carton weight: 12.5 kg

EAN code

5903240385546
TWO-FUNCTION TOURIST STOVE BAVARIA IT001
CE certificate

Type of gas: PROPANE-BUTANE/IZOBUTANE

Power: 2.2 kW

Gas consumption: 155 g/h

Working range: 20˚C +/- 5˚C

Packaging: black suitcase

Ignition: piezo-electric

Gas source: gas cylinder, gas cartridge
Case: 1 pc.

Dimensions: 37x10x31,5 cm

Weight: 2,08 kg

Master carton: 6 pcs.

Master carton dimensions: 60x37,5x33,5 cm

Master carton weight: 12,5 kg

EAN code 5903240385034
TOURIST STOVE TYROL IT002
CE certificate

Type of gas: PROPANE-BUTANE/IZOBUTANE

Power: 2,2 kW

Gas consumption: 155 g / h

Working range: 20˚C +/- 5˚C

Packaging: black suitcase

Ignition: piezo-electric

Gas source: gas cartridge
Case: 1 pc.

Dimensions: 37x10x31,5 cm

Weight: 2,08 kg

Master carton: 6 pcs.

Master carton dimensions: 60x37,5x33,5 cm

Master carton weight: 12.5 kg

EAN code 5903240385010
CE certificate

Type of gas: BUTANE

Power: 2.0 kW

Gas consumption: 146 g/h

Working range: 20˚C +/- 5˚C

Packaging: black suitcase

Ignition: piezo-electric

Gas source: gas cartridge
Case: 1 pc.

Dimensions: 37x10x31,5 cm

Weight: 2.08 kg

Master carton: 5 pcs.

Master carton dimensions: 60x37,5x33,5 cm

Master carton weight: 12,5 kg

EAN code 5903240385768
TOURIST STOVE TEXAS IT003
CE certificate

Type of gas: PROPANE-BUTANE/IZOBUTANE

Gas consumption/burner: 160g / h

Working range: 20˚C +/- 5˚C

Packaging: cardboard box

Ignition: piezo-electric

Gas source: gas cartridge
Carton: 1 pc

Dimensions: 62,2x28x11,5 cm

Weight: 2,66 kg

Master carton: 4 pcs.

Master carton dimensions: 65.5x46x32 cm

Master carton weight: 13,5 kg

EAN code 5903240385508
CE certificate

Type of gas: PROPANE-BUTANE

Working range: 20˚C +/- 5˚C

Gas source: pierced gas cartridge
Carton: 1 pc

Dimensions: 12x12x21 cm

Weight: 0,43 kg

Master carton: 12 pcs.

Master carton dimensions: 37,5x26x45 cm

Master carton weight: 5,90 kg

EAN code 5903240385300
GAS CARTRIDGE 227G IK1004
Certificate: π 0875

Compliant with EN417

Type of gas: Isobutane

Weight: 227 g / 400 ml

Operating range from -10˚C to + 40˚C
Carton: 28 pcs.

Dimensions: 48,5x28x21 cm

Weight: 9,51 kg

Palette: 1512 pcs.

Pallet dimensions: 120x80x203 cm

Pallet weight: 560 kg

EAN code 5903240385003
Certificate: π 0875

Compliant with EN417

Type of gas: Butane

Weight: 220 g / 380 ml

Operating range from -10˚C to + 40˚C
Carton: 28 pcs.

Dimensions: 48,5x28x21 cm

Weight: 9,51 kg

Palette: 1512 pcs.

Pallet dimensions: 120x80x203 cm

Pallet weight: 560 kg

EAN code 5903240385485
Certificate: π 0875

Compliant with EN417

Type of gas: Isobutane

Weight: 250 g / 450 ml

Operating range from -10˚C to + 40˚C
Carton: 28 pcs.

Dimensions: 48,5x28x21 cm

Weight: 9,51 kg

Palette: 1512 pcs.

Pallet dimensions: 120x80x203 cm

Pallet weight: 560 kg

EAN code 5903240385256
Certificate: π 0437

Compliant with EN417

Type of gas: PROPAN-BUTAN

Weight: 190 g / 400 ml

Operating range from -10˚C to + 40˚C
Carton: 48 pcs.

Dimensions: 36x27x33 cm

Weight: 14,36 kg

Palette: 2880 pcs.

Pallet dimensions: 125x85x208 cm

Pallet weight: 860 kg

EAN code 5905143042069
CertyfikatE: π 0437

Compliant with EN417

Type of gas: PROPAN-BUTAN

Weight: 230 g

Operating range from -10˚C to + 40˚C

7/16 " threaded valve
Carton: 24 pcs.

Dimensions: 34x23,5x28 cm

Weight: 9,3 kg

Palette: 1440 szt.

Pallet dimensions: 120x80x176 cm

Pallet weight: 573 kg

EAN code: 5903240385690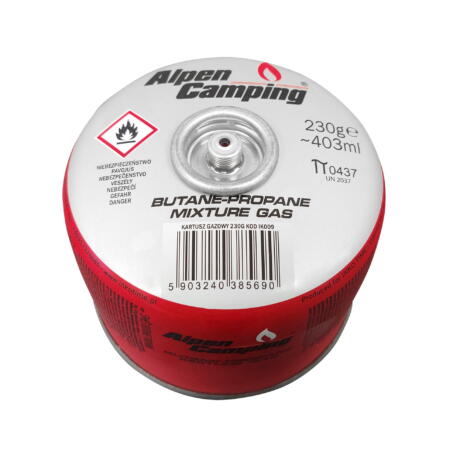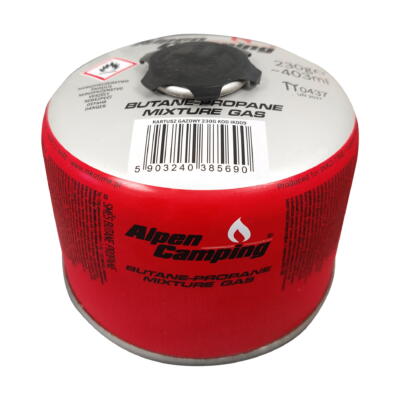 Certificate: π 0437

Compliant with EN417

Type of gas: PROPANE-BUTANE

Weight: 300 g

Operating range from -10˚C to + 40˚C

7/16 " threaded valve
Carton: 18 pcs.

Dimensions: 34x23,5x28 cm

Weight: 9,3 kg

Palette: 1080 pcs.

Pallet dimensions: 120x80x212 cm

Pallet weight: 573 kg

EAN code 5903240385263
Certificate: π 0875

Compliant with EN417

Type of gas: PROPANE-BUTANE

Weight: 330 g / 600 ml

Operating range from -10˚C to + 40˚C

7/16 " threaded valve
Carton: 12 pcs.

Dimensions: 36,5x25x23,5 cm

Weight: 9,3 kg

Palette: 600 pcs.

Pallet dimensions: 120x80x212 cm

Pallet weight: 478 kg

EAN code 5903240385645
Certificate: π 0875

Compliant with EN417

Type of gas: PROPANE-BUTANE

Weight: 330 g / 600 ml

Operating range from -10˚C to + 40˚C

7/16 " threaded valve
Carton: 12 pcs.

Dimensions: 27x21x27.5 cm

Weight: 5.6 kg

Palette: 1176 pcs.

Pallet dimensions: 120x80x205 cm

Pallet weight: 570 kg

EAN code 5903240385195
Plastic or metal valve

5 nozzles included

Capacity: 300 ml / 168 g
Display: 12 pcs.

Dimension: 21,2x15,9x24,6 cm

Weight: 3,11 kg

Collective package: 48 pcs.

Collective package, dimensions: 44x33x26 cm

Collective package weight: 13 kg

EAN code 5903240385027
Plastic or metal valve

5 nozzles included

Capacity: 90 ml / 50 g
Display: 25 pcs.

Dimension: 17,7x17,7x17,4 cm

Weight: 2,05 kg

Collective package: 100 pcs.

Collective package, dimensions: 37x36x18 cm

Collective package weight: 8,46 kg

EAN code 5903240385041
Carton: 1 pc

Dimensions: 33x33x4.5 cm

Weight: 0.54 kg

Master carton: 12 pcs.

Master carton dimensions: 54x34x34 cm

Master carton weight: 6,5 kg

EAN code 5903240385607
GRILL FOR GAS CARTRIDGES K2000 SIERRA
CE certificate

Type of gas: PROPANE-BUTANE/IZOBUTANE

Power: 2.2 kW

Gas consumption: 152g / h

Working range: 40˚C +/- 2˚C

Packaging: blue suitcase

Ignition: piezo-electric

Gas source: gas cartridge
Case: 1 pc.

Dimensions: 50x14,5x40 cm

Weight: 4,76 kg

Master carton: 2 pcs.

Master carton dimensions: 51x30x41 cm

Master carton weight: 15 kg

EAN code 5903240385331
PORTABLE GAS HEATER MODEL ICELAND
CE certificate

Type of gas: PROPANE-BUTANE / izobutane

Power: 1.7 kW

Gas consumption: 124 g / h (ambient temperature 20 ˚C)

Igniter: Piezo

Gas source: gas cylinder / gas cartridge
Carton: 1 pc

Dimensions: 30.5 x 20 x 33 cm

Weight: 2.26 kg

Master carton:

6 items

Master carton dimensions:

63x32x68 cm

Master carton weight:

14,3 kg

EAN code

5903240385287
Flame temperature 1100˚c

Built-in piezo ignition

Easy-to-use gas cartridge holder

Flame regulation

TÜV certificate
Carton: 8 pcs

Dimension: 85X26X22 cm

Weight: 3 kg

Master carton: 16 pcs

Master carton dimensions: 88x27x45 cm

Master carton weight: 6 kg

EAN code 5903240385577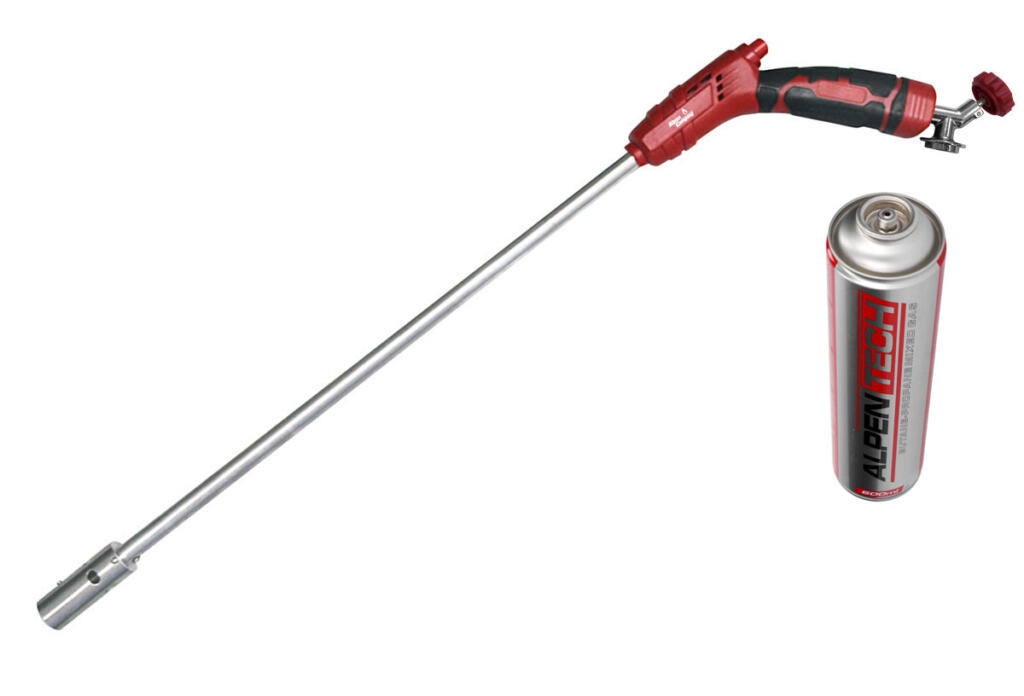 CARTRIDGE BURNER IK0011 ETNA
Flame temperature 1700˚c

Built-in piezo ignition

Easy-to-use gas cartridge holder

Flame regulation

Ceramic anti-burn protection

CE certificate
Carton: 10 pcs.

Dimension: 29,5x20,5x14,5 cm

Weight: 1,95 kg

Master carton: 100 szt.

Master carton dimensions: 75x31,5x43 cm

Master carton weight: 19,5 kg

EAN code 5903240385072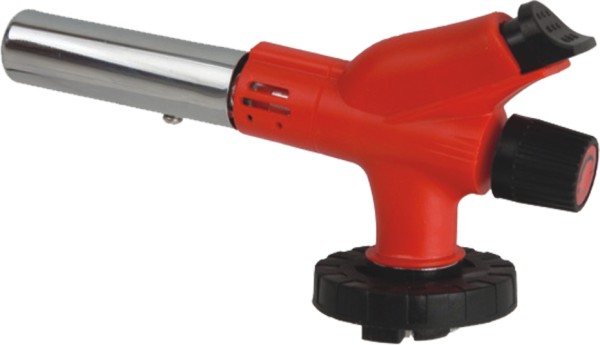 Temperatura płomienia 1350˚c

Built-in piezo ignition

Easy-to-use gas cartridge holder

Flame regulation

Ceramic anti-burn protection

CE certificate
Carton: 10 pcs.

Dimension: 29,5x20,5x14,5 cm

Weight: 1,95 kg

Master carton: 100 szt.

Master carton dimensions: 75x31,5x43 cm

Master carton weight: 19,5 kg

EAN code 5903240385553